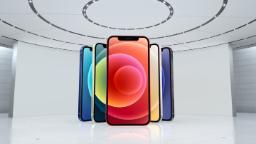 The
5G-equipped phones
, which were unveiled earlier this week, include enhanced cameras, an upgraded display, a tougher glass screen and some new colors, among other bells and whistles.
Preorders for the iPhone 12 and Pro begin Friday morning before hitting stores next week. And
Apple
(AAPL)
is releasing two more models in the coming weeks: The iPhone 12 mini and 12 Pro Max will be available for preorder on November 6.
The cheapest phone in the lineup is the iPhone 12 mini, which starts at $699. The top-of-the-line iPhone 12 Pro Max, featuring Apple's biggest ever smartphone display at 6.7 inches, starts at $1,099.
However, there are several ways to get cheaper — or even free — new iPhones, depending on the phone carrier.
Here's who offering deals:
AT&T
By locking in existing customers for at least 30 more months, AT&T can help maintain its base.
T-Mobile
"T-Mobile typically thrives on 'jump ball' opportunities and has a smaller iPhone base, putting them in attack position," the analysts noted. "However, their offer is relatively benign compared to AT&T and focused on multi-line subscribers."
Verizon
Similar to its rivals, it's offering $800 trade-in to shoppers, but they must have the iPhone X (released in 2017) or newer and be a new customer or add a new line. Existing customers can trade in an iPhone X or newer model and pay $15 month for 2 years with an eligible data plan.
"Still, like T-Mobile, Verizon provided 'good enough' offers but falling short to AT&T," Cowen analysts said.