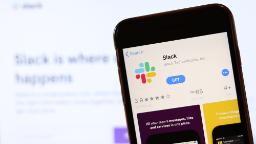 Under the terms of the agreement,
Slack
(WORK)
shareholders will receive $26.79 in cash and 0.0776 shares of Salesforce stock per Slack share.
Salesforce
(CRM)
announced the deal
Tuesday in conjunction with its earnings release for its third quarter of fiscal 2021.
The move will allow
Salesforce
(CRM)
, which sells cloud-based customer relationship management software and other enterprise applications, to bolster its business offerings.
Slack's stock was essentially flat in after hours trading Tuesday. Salesforce shares fell more than 4%.
Salesforce on Tuesday posted third quarter revenue of $5.42 billion, up 20% from the same period in the prior year, and diluted earnings per share of $1.15. The results beat analyst expectations, but revenue growth slowed compared to the two earlier quarters in this fiscal year.
The company raised its revenue guidance for the full 2021 fiscal year to approximately $21.10 billion to $21.11 billion, which would mark a year-over-year increase of about 23%. It also provided full year 2022 revenue guidance of approximately $25.45 billion to $25.55 billion, which includes about $600 million related to the Slack acquisition.
The company also announced the retirement of Chief Financial Officer and President Mark Hawkins, who will leave his role on January 31 and transition to an advisory role as Salesforce's CFO emeritus through October 2021. He will be replaced by Amy Weaver, who is currently Salesforce's president and chief legal officer.
The Salesforce-Slack deal
An acquisition from an enterprise software and services giant like Salesforce could help accelerate Slack's user growth even more.
Salesforce CEO Marc Benioff in a call with analysts Tuesday called Slack a "supercharger" for Salesforce. He said he plans to expand Slack in the enterprise space especially by combining the companies' capabilities and creating "this amazing hub of productivity of collaboration, integration and applications that now leverage all this amazing data." He added that currently, 90% of Slack's enterprise customers are also Salesforce customers.
"Together, Salesforce and Slack will shape the future of enterprise software and transform the way everyone works in the all-digital, work-from-anywhere world," Benioff said in a statement.
"The core reason for this deal in our opinion is to keep pace with the cloud behemoth in Redmond," Wedbush analyst Dan Ives said in a note to investors Tuesday, referring to Microsoft. "Slack despite facing stiff competition from Microsoft has been a clearly successful solution set further penetrating enterprises and thus looks like the natural fit for Salesforce to beef up its collaboration and messaging footprint and keep pace with [Microsoft]."
The deal is expected to close in the second quarter of Salesforce's fiscal year 2022, subject to approval by Slack shareholders and regulators.
Correction: A previous version of this article misstated the terms of Salesforce's acquisition of Slack.